2020.07.28
イベント, 食品・飲料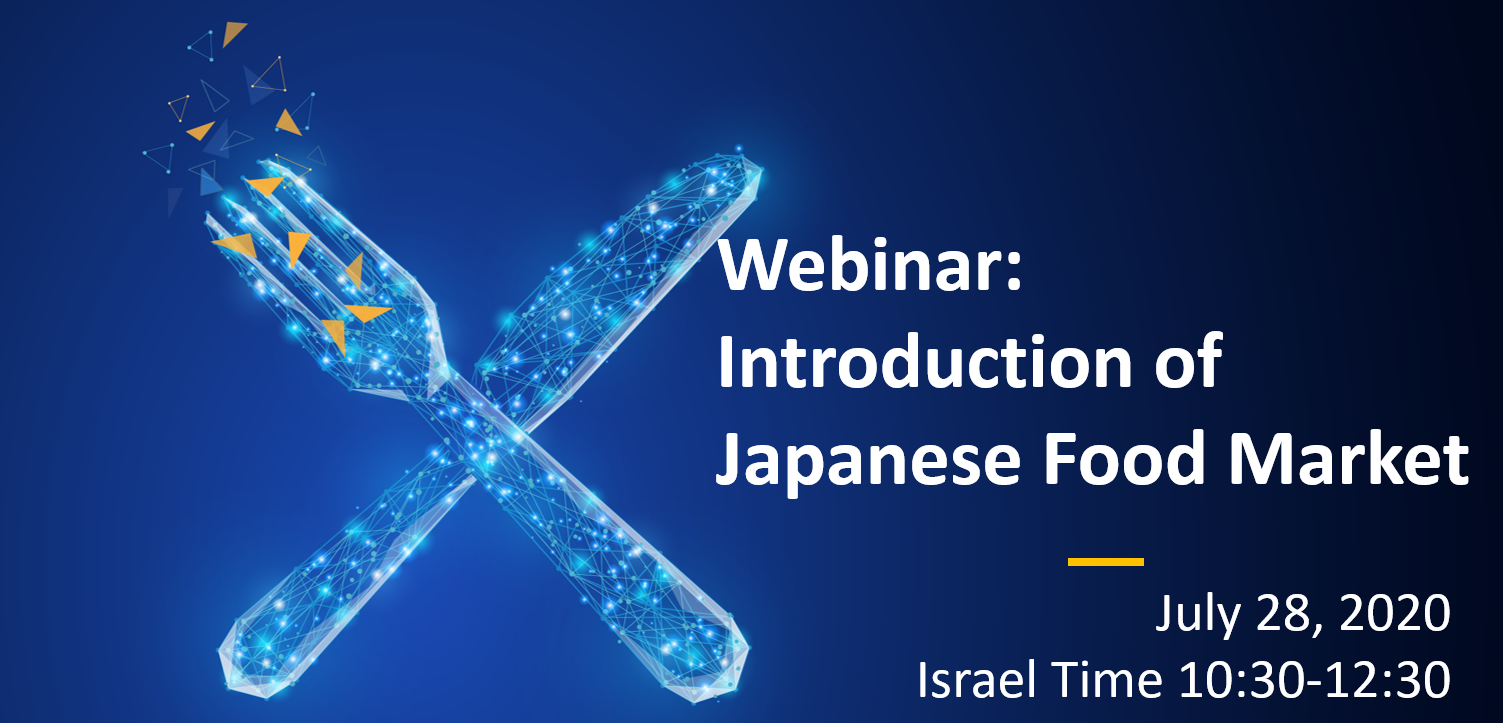 日本の食品市場に詳しい専門家に登壇頂き、これから日本市場への参入を考えておられる海外企業向けのウェビナーを開催いたしまします。
開催概要
■ 日時:2020年7月28日(火)16:30~18:00
■ 主催:イスラエル輸出機構 駐日イスラエル大使館経済部
■ 方法:ZOOM 参加には登録が必要です
■ 参加費:無料
■ 言語:英語
■ Agenda (Israel Time)
10:30   Greeting by Embassy of Israel & Export Institute
10:40   Keynote speech 1 by Mr. Kunihiro Kobayashi
11:10   Question-and-answer session
11:45   Keynote speech 2 by Mr. Daniel Kwintner
12:15   Com Question-and-answer session
12:20   Closing
■ Speakers
Mr. Kunihiro Kobayashi, Greenpacks Corporation
His own brand, "Flower Shop of the World" was twice featured on NHK's "The World is Full of Wanted Things" and received a great response.
In recent years, he has been appearing on NHK's "Asa Ichi" and guest commentating on radio stations.
Mr. Daniel Kwintner
Senior Board Advisor / Japan Market Entry Consultant at G-BRIDGE Co.,Ltd.
Leveraging 15 years of immersion in Japan's Food & Beverage industry, he has helped multiple Japanese companies to export their products abroad and worked at Sopexa Japan as Client Services Director in supporting European and international key accounts for their 360 campaigns in Japan.
[contact-form to="tokyo@israeltrade.gov.il" subject="Japanese Food Market 7月28日"][contact-field label="First Name " type="name" required="1″][contact-field label="Last Name" type="name" required="1″][contact-field label="Company Name" type="text" required="1″][contact-field label="Division " type="text" required="1″][contact-field label="Title " type="text" required="1″][contact-field label="Mail Address for confirmation " type="email" required="1″][contact-field label="Phone Number" type="text" required="1″][contact-field label="Company Home Page" type="url" required="1″][/contact-form]